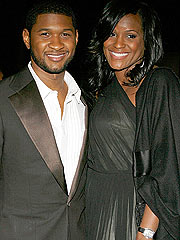 July 28, 2007

People.com reported details of Usher's wedding being canceled.

The wedding of Usher and Tameka Foster, originally planned for Saturday afternoon at record executive L.A. Reid's home in New York's Hamptons, has been canceled, a representative for Usher confirms to PEOPLE .

A source also says that the 70 to 100 guests who were expected at the wedding are being advised that the event will not take place as originally planned. Flower decorations have also been seen being removed from the Reid home.

In a statement, publicist Patti Webster said, "It was announced today that the wedding ceremony for Usher Raymond IV and Tameka Foster was canceled. No additional information will be given regarding the circumstances of the cancellation, but we hope the privacy of this matter will be respected." Read more . . .